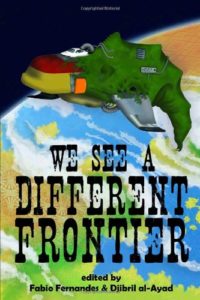 Title:
We See a Different Frontier
Published by:
The Future Fire
Release Date:
2013
Genre:
Short Story Collection
ISBN13:
2940045998543
ASIN:
B00ER51XP0
Get a free copy of the short story "Remembering Turinam" at Smashwords.

This anthology of speculative fiction stories on the themes of colonialism and cultural imperialism focuses on the viewpoints of the colonized. Sixteen authors share their experiences of being the silent voices in history and on the wrong side of the final frontier.
TOC:
Preface by Aliette de Bodard
Introduction by Fabio Fernandes & Djibril al-Ayad
The Arrangement of Their Parts, Shweta Narayan
Pancho Villa's Flying Circus, Ernest Hogan
Them Ships, Silvia Moreno-Garcia
Old Domes, J.Y. Yang
A Bridge of Words, Dinesh Rao
The Gambiarra Method, Fabio Fernandes
Droplet, Rahul Kanakia
Lotus, Joyce Chng
Dark Continents, Lavie Tidhar
A Heap of Broken Images, Sunny Moraine
Fleet, Sandra McDonald
Remembering Turinam, N.A. Ratnayake
Vector, Benjanun Sriduangkaew
I Stole the D.C.'s Eyeglass, Sofia Samatar
Forests of the Night, Gabriel Murray
What Really Happened in Ficandula, Rochita Loenen-Ruiz
Critical afterword by Ekaterina Sedia