Novels
---
A Mars colonist accepts a deal with a mining company to start a new life on humanity's off-world frontier; but idealism turns to unease when reality becomes darker than the fine print foretold. With his farm under biological attack and the most powerful player on the planet as an enemy, Mahela has no choice but to flee with information vital to the future of millions.
---
---
Short Stories
---
Amanthi is a teenage student in a not-so-distant future school system of hyper-testing and top-down control. In this world, creativity is a liability — but Amanthi is not deterred from dreaming. "The Parched Lands", delves into the tangled issues of race, tracking, high-stakes testing, and creativity starvation that run through America's public school systems. This short story was published as a part of Issue 7: Expectations of Crossed Genres Magazine.
Get the short story The Parched Lands for free on Smashwords.
---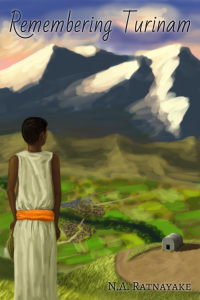 Remembering Turinam tells the tale of Salai, a scholar-monk who lives in Turinam, a colonized territory occupied by the Rytari Republic. Salai returns to his childhood home to reconcile with his dying grandfather, who fought in defense of Turinam during the Rytari invasion many decades ago. He comes with turbulent questions — he leaves with a mission. The Future Fire published this short story as part of the colonialism-themed, speculative fiction anthology We See a Different Frontier in September 2013. It received an honorable mention in Gardner Dozois's The Year's Best Science Fiction, 31st Edition.
Get the short story Remembering Turinam for free on Smashwords.
---